Lindsey and Grace Schust (mother-daughter duo) team teach hand drumming classes and team building workshops through the Concord Community Music School and as registered NH Artists. They also give interactive lecture performances.
For info on virtual group African style hand drumming lessons or private hand drumming lessons, contact: schustmusic@gmail.com
Private lessons are also offered in beginner piano, music reading, beginner composing and beginner songwriting.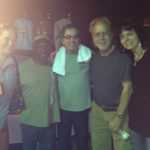 Grace Schust with her mentor and first African drumming teacher, the late and great Babatunde Olatunji.
Hand made "ashiko" drum by Grace Schust & Jim Schust 
of Timbre Drums, Andover NH.