Drumming together & apart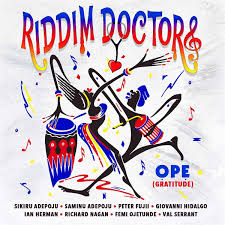 It's really exciting to me how the explosion of creativity in the digital age, keeps going- even during a pandemic!
Our friend and teacher Sikiru Adepoju, master talking drummer from Nigeria, recently released his newest album "OPE" with the Riddim Doctors. The album features so many musicians and master drummers including Zakir Hussein and Giovanni Hidalgo and Val Serrant.
In 2018, Sikiru invited me to join the project, by recording some tracks remotely from rural New Hampshire. Sikiru taught me the song "Dide Afrika (wake up Africa)" over the phone and helped correct my Yoruba pronunciation. Then I did some arranging and practicing, and went to "Hummingbird Studios" in Andover, NH where Jimmy Sferes recorded the backing tracks. I was so nervous at the recording session! I sang in between sips of green tea with agave. After a bunch of takes in English and Yoruba, we were done, and ready to send the files to Sikiru's engineer in Oakland, California. I would have enjoyed a trip to California, but the simplicity of being able to record tracks remotely and send them over the internet, made things very easy.
I've known Sikiru since I was 9 years old, when my mom Grace Schust met him at a drumming residency with Babatunde Olatunji. Our family, became family of the heart with Sikiru and Baba. I'm so happy that I was able to sing on his album. If you are interested in the project, you can read about it here… or stream it here! "Ope" means gratitude in Yoruba. Baba was always saying "there is no much to give thanks for." I am grateful for our connection with African drumming and our drumming family of the heart.